Arriving – Getting To The Ship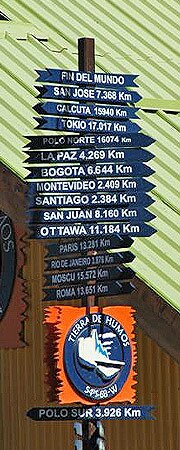 Arriving By Air
For cruise travelers arriving by air, the Ushuaia-Malvinas Argentinas International Airport is located approx. 2.5 miles (4 km) south of the city center/port area. Taxis are available at the curb as you exit the baggage claim area. It is best to have Argentine Pesos upon arrival however most drivers will accept US dollars. The taxi fare to the pier is approx. US $4-5 plus a gratuity. It is customary to tip the driver by rounding off the fare to the next-highest convenient number.
Ship Location
The cruise ships dock at the main commercial port (Muelle Puerto de Ushuaia) as compared to the adjacent tourist pier (Muelle Turistico) from where the local day excursion boats depart.
Embarkation
Check in advance with your cruise line to find out what time embarkation begins. If you arrive early (or have to check out of your hotel room), check in advance to see if you can bring your luggage to the ship earlier in the day. If you do, ensure each piece is locked and bears your identification. Carry your valuables including your prescription medications while sightseeing, as well as anything breakable unless you are comfortable leaving these items for the day.

At the port security office you will need to present your passport, Argentine Arrival Card (received when entering the country) and ship's ticket/boarding pass and have your luggage x-rayed.

Once you have embarked (after having checked-in with the ship's staff) you will need to have in your possession a Visitor's Pass (which you will get from the ship's staff) to return to the ship if you leave the pier to go back into town. If you do, be sure to allow enough time so you are back aboard at least 30 minutes prior to "All Aboard."
Planning Tip
When planning your departure from Ushuaia keep this in mind: our experience is that the flights departing Ushuaia earlier in the day tend to operate closer to schedule than flights departing in the late afternoon or early evening. This might be a consideration if you are connecting, for example in Buenos Aires or Santiago, to an onward international flight departing later in the day. Ensure, however, that you do not confirm too early of a flight in the day as you will need to allow enough time to comply with clearance formalities prior to your disembarkation. If in doubt, check with your cruise line to see what they recommend.
Get Fully Outfitted for Antarctica
More Ushuaia Tips ...