Ushuaia Dining and Shopping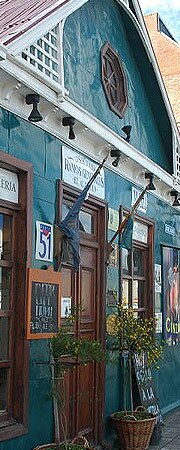 The city has a number of fine restaurants, bars, cafés and bakeries of interest to the traveler, many of which are popular with the ship's officers and expedition staff members who enjoy a lunchtime meal ashore before their ships depart later in the day for Antarctica. Local specialties include Fuegian lamb, Argentine beef, seafood, everything from oysters and mussels to lobster and seasonally-available king crab (centolla), and a wide selection of Argentine wines and locally handcrafted beers.
Reservations
Reservations may be required, especially if dining out in the evening. We recommend you check with your hotel concierge or with one of the tourist information centers on opening hours and to assist with restaurant reservations (which are necessary at the more upscale restaurants).
Tipping
In general, tips (propinas) are not added to restaurant bills. If in doubt, ask the server. Keep some cash, either U.S. dollars or pesos, for tips. In restaurants with table service, a tip of 10% is customary.
Restaurants we Frequent when in Ushuaia
Kaupé is one of Ushuaia's prestige à la carte restaurants and wine bars that has previously earned the title of 'Best Restaurant in Argentina'. Here they specialize in seafood, particularly centolla (king crab offered seasonally), local fish such as buttered merluza (hake), and lomo (beef tenderloin) in plum sauce. Try the chef's 'tasting menu' which includes wine and dessert, and is a good value. Pricey but well worth the splurge. Located on the hillside behind the city so a cab might be best for those who don't want a good leg stretch. Located at Roca 470 (tel 02901 42 2704). Closed Sundays. Reservations recommended.
Visit Kaupé's website
Chez Manú, a wonderful French-inspired restaurant nestled in a mountainside location (on the hill below the Hotel del Glacier), a short cab ride from the downtown, offers a spectacular view of the Beagle Channel and is equally top-of-the-line to Kaupé. Specialties include a rich assortment of fish and shellfish dishes prepared simply or offerings such as rabbit, duck and pheasant, which are infused with local produce (for example, calafate berries or aromatic herbs). Located at 5 Avenida Luis Fernando Martial (tel 02901 43 2253). Open daily noon to 3 pm and 8 pm to midnight. Reservations recommended.
Visit Chez Manú's website
Bodegón Fueguino (pictured opposite), housed in a yellow 1896-built pioneer house and run by a charming brother and sister pair, is a very popular gathering spot for locals as well as ship's officers and expedition staff who enjoy the extensive wine list as well as the shared appetizers (tapas), fresh grilled fish, roast Fuegian lamb, salad and a wide range of vegetarian options. For dessert try the panqueques (crepes) or helado (ice cream) topped with dulce de leche. Located at Avenida San Martín 859 (tel 02901 43 1792). Open Noon to 3 pm and from 8 pm to Midnight. Closed Mondays.
Volver is a popular and historic restaurant full of antiques, historic photographs and brimming with character and atmosphere. Their wide menu features all sorts of local meats as well as seafood with centolla (king crab) being their signature dish. Located at Avenida Maipú 36 (tel 02901 42 3977).
Kuar Restaurant/Bar, decorated with indigenous textiles, features wonderful views of the Beagle Channel from its large picture windows and a knock-out cuisine to match including local Fuegian meat and seafood specialties and is a fine choice for an evening meal. Extensive Argentine wine list and beer selection. Try one of their homemade Hain beers. Located at Avenida Perito Moreno 2232 (tel 02901 43 7396), a short cab ride (a mile or so) from the downtown. Reservations recommended.
Visit Kuar's website
El Almacén de Ramos Generales (pictured opposite) is a very popular coffeehouse, bakery and wine bar and housed in a general store that dates back to 1906. Our favorites include the French-styled petits gaux, lovingly prepared each morning along with fresh bread, a wide selection of cheeses and cold cuts, and fresh-brewed coffee and teas. At lunch we suggest you try the locally-brewed Beagle beer with your meal or try one of the Argentine wines. Located at 749 Avenida Maipú (tel 02901 42 4317). Open daily from 8 am to 1 pm.
Laguna Negra is primarily known for its locally produced chocolates and other fine produce but has a nice little café at the back serving coffee and hot chocolates. Try a 'submarino', a tall glass of steamed milk accompanied by a submarine-shaped chocolate that you drop into the milk and stir until melted. Located at Avenida San Martín 513 (tel 02901 43 1144).
Our Top Shopping Recommendations
Shopping is a bit limited, apart from the myriad of shops selling tourist souvenirs and imported goods mostly of interest to the local market. Ushuaia is, however, a 'tax-free zone,' so ask the retailer if your purchase qualifies and for instructions about how to submit your paperwork and receipts upon your departure from Argentina.

An outlet of H. Stern Jewelers, one of the world's preeminent jewelry stores, is located in the Albatros Hotel (located at Avenida Maipú 505, tel 02901 42 864) for those interested in high-end shopping.

Tierra de Humos (located at Avenida San Martín 246 and a 2nd location at Avenida San Martín 861) stocks locally-produced leather, silverwork and handicrafts. Other handicraft shops can also be found along the same street.

A small, local handicraft market, the open-air Paseo de los Artensanos, can be found along the waterfront adjacent to the entrance to the Muelle Puerto de Ushuaia (the commercial port where the cruise ships are docked) at the corner of Avenida Maipú and Lasserre. The range of goods offered is limited mostly to arts and crafts however here you are purchasing directly from the artisan.
Get Fully Outfitted for Antarctica
More Ushuaia Tips ...