Private Label Design & Manufacturing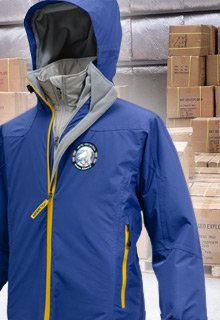 We have been designing and manufacturing customized apparel for the expedition cruise industry for over 20 years. Our private label range includes parkas for the polar regions, technical clothing, flight bags, backpacks, travel wallets and rain ponchos.
Fully customized, taking into consideration your needs
Carefully select manufacturers and closely monitor their reliability, responsiveness, sustainable practices and ability to meet customer demand
Delivered to the ship. We have an excellent track record of delivering to ships in remote areas.
Storage free of charge in our bonded Ushuaia warehouse for up to 60 days, saving space on board Antarctic sailings
Allow 90 days from design approval. Minimum quantities vary by product and can start at 72 to 144 (one color, one size).
You can save by placing your order early.